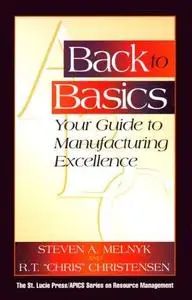 Steven A. Melnyk and R.T. "Chris" Christensen
Back to Basics: Your Guide to Manufacturing Excellence
CRC | ISBN: 1574442791 | 2000 | 224 pages | PDF | 1.2 MB
Production and inventory control is an entry point for many people entering the world of operations management. They are typically assigned to areas such as planning, scheduling, and inventory control. When they enter the field, they find they need to know and master the basics - in a hurry. Developing mastery takes time, and often comes through the "school of hard knocks". This book provides an accurate, comprehensive treatment of managerially relevant topics such as: capacity, inventory, inventory accuracy, part numbering, processes, problem solving, and general managerial guidelines.