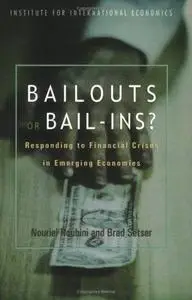 Bailouts or Bail-Ins: Responding to Financial Crises in Emerging Markets
Publisher: Institute for International Economics | ISBN: 0881323713 | Author: Nouriel Roubini | PDF | 2,07 Mb | 427 pages
Book Description
Roughly once a year, the managing director of the International Monetary Fund, the U.S. treasury secretary and in some cases the finance ministers of other G-7 countries will get a call from the finance minister of a large emerging market economy. The emerging market finance minister will indicate that the country is rapidly running out of foreign reserves, that it has lost access to international capital markets and, perhaps, that is has lost the confidence of its own citizens. Without a rescue loan, it will be forced to devalue its currency and default either on its government debt or on loans to the country's banks that the government has guaranteed. This book looks at these situations and the options available to alleviate the problem. It argues for a policy that recognizes that every crisis is different and that different cases need to be handled within a framework that provides consistency and predictability to borrowing countries as well as those who invest in their debt.
About the Author
Nouriel Roubini is an associate professor of economics and international business at the Stern School of Business, New York University. He was a faculty member of the economics department at Yale University (1988-95). He was senior economist for international affairs at the White House Council of Economic Advisers (1998-99) and senior adviser to the undersecretary for international affairs and the director of the Office of Policy Development and Review at the US Treasury Department (1999-2000). He has been a long-time consultant to the International Monetary Fund and a number of other public and private institutions. He is a fellow at the National Bureau of Economic Research and the Centre for Economic Policy Research. He is coauthor of Political Cycles: Theory and Evidence (MIT Press, 1997).
Brad Setser is a research associate at the Global Economic Governance Programme at University College, Oxford. He was an international affairs fellow at the Council on Foreign Relations and a visiting scholar at the International Monetary Fund (IMF). He served in the US Treasury from 1997 to 2001, where he worked extensively on the reform of the international financial architecture, sovereign debt restructurings, and US policy toward the IMF. He was the acting director of the US Treasury's Office of International Monetary and Financial Policy.
Download link:
http://rapidshare.de/files/35667961/BailoutBailin.rar
Please feel free to mirror this link for those who cannot download from rapidshare, at the same time those who can please use my link above :)