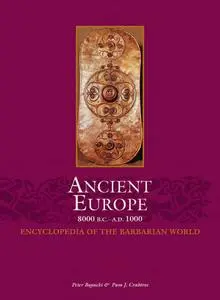 Ancient Europe 8000 B.C.–A.D. 1000: Encyclopedia of the Barbarian World, 2 volume set
Pam Crabtree & Peter Bogucki
Charles Scribner's Sons | ISBN 0684806681 | 2004 | PDF | 32.1 MB
This detailed encyclopedia is the first to explore the many peoples of early European civilization. Viewed as "barbarian" through the lens of ancient Greece and Rome, these civilizations were responsible for such accomplishments as the rise of farming in the Neolithic era and the building of Stonehenge. Coverage extends from prehistoric origins through the early Middle Ages (8000 B.C. to A.D. 1000) when tribal movements helped define the end of ancient culture and the rise of the modern European world. Arrange topically and chronologically Ancient Europe, 8000 B.C. to A.D. 1000 features include 200 illustrations (including the black & white images, color images, and line drawings); 70 maps; a chronology; index; two eight-page color inserts; cartographic endpapers; glossary of key archaeological terms and more.