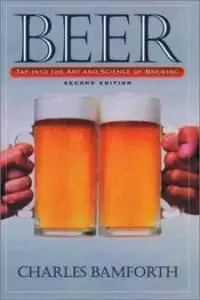 Charles Bamforth, «BEER: Tap Into the Art and Science of Brewing, 2nd Edition»
Oxford | ISBN 0195154797 | March 2003 | PDF | 247 Pages | 3 Mb
Charles Bamforth, who has been described as one of the two or three brewing scientists of his generation, here gives us a revised and updated version of his definitive guide to brewing. Convenient, useful information on brewing all in one well-priced volume Updated edition includes industry information on global brewing processes, to help breweries and microbreweries keep pace in today's competitive market Ideal for the professional and novice alike, Beer: Tap into the Art and Science of Brewing is the ideal one-volume handbook on brewing beer.
" Bamforth traces the history of beer from ancient Babylon some 8,000 years ago to today's brewing science, recounting important brewing milestones along the way. This new edition contains expansive coverage of global beer styles throughout the world, the sensory character of beer flavor, and the development of the global brewing industry. Each of the staples of brewing (barley, hops, water, and yeast), the fundamental processes of brewing (mashing, boiling, fermentation, maturation, and packaging), and the quality determinants (flavor, foam, color, and clarity) is covered in comprehensive detail. Never losing sight of the central role of science in beer's design and manufacture, Bamforth closes with some predictions about the future of the industry. "
Contents:
- From Babylon to Busch: The World of Beer and Breweries
- Grain to Glass: The Basics of Malting and Brewing
- Eyes, Nose, and Throat: The Quality of Beer
- The Soul of Beer: Malt
- The Wicked and Pernicious Weed: Hops
- Cooking and Chilling: The Brewhouse
- Goddisgoode: Yeast and Fermentation
- Refining Matters: Downstream Processing
- Measure for Measure: How Beer is Analyzed
- To the Future: Malting and Brewing in Years to Come
- Appendix: Some Scientific Principles
- Glossary
- Index
Thanks to original uploader: rsc112
No RAR Password
No Mirrors Please!