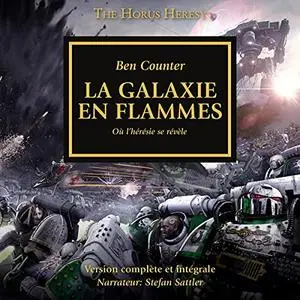 Ben Counter, "La Galaxie en Flammes: The Horus Heresy 3"
2021 | ASIN: B0999N3X8J | Français | MP3@64 kbps | 8 hrs 42 mins | 170 MB
Rétabli de ses graves blessures, le Maître de Guerre Horus lance les forces triomphantes de l'Imperium contre le monde séditieux d'Istvaan III. Les rebelles sont rapidement écrasés, mais la trahison d'Horus est révélée lorsque la planète est bombardée d'ogives virales et que les Space Marines se tournent les uns contre les autres, frère contre frère, dans la plus déchirante bataille imaginable. La première trilogie de cette saga épique s'achève de manière explosive, alors que l'Hérésie d'Horus se dévoile.
Dan Abnett, "L'Ascension d'Horus: The Horus Heresy 1"
Graham McNeill, "Les Faux Dieux: The Horus Heresy 2"