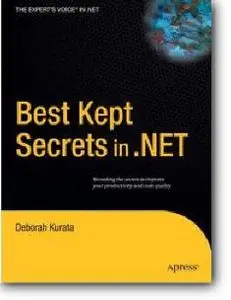 Deborah Kurata, «Best Kept Secrets in .NET»
Apress | ISBN 1590594266 | 2004 Year | CHM | 8,42 Mb | 240 Pages
Whether you are a new or experienced .NET programmer, this book offers data management methods that you might frequently miss in the rush to complete projects on time. Author Deborah Kurata writes a handy, complete guide to lead you through hidden features and tricks buried within Visual Studio.

The book focuses on daily code management, rather than deep .NET framework discussions. Kurata concentrates on efficiencies, presentation, controls, data management methods, and day-to-day code snags. So if you've developed inefficient habits or have been fighting the development environment, you will, mercifully, save hours in the team development cycle by putting the book's tips into practice.
Password
:
www.AvaxHome.ru
Download from Rapidshare
Бонус | Bonus
My other uploaded eBooks (1900+) - links and descriptions
Другие книги, закаченные мной (более 1900) - ссылки и библиографические данные
New!
version 6 (May 03 2006) [1,1 Mb] | Format: txt
Download eBooks list from Mytempdir
Download eBooks list from Rapidshare
If you need a book from the list but the link doesn't work
anymore, send me a message. Also write me about dead links in my other posts, please.
Если Вам необходима книга из списка, а ссылка на нее не работает, то отправьте мне сообщение. Также пожалуйста отправляйте мне сообщения о нерабочих ссылках в моих постах.