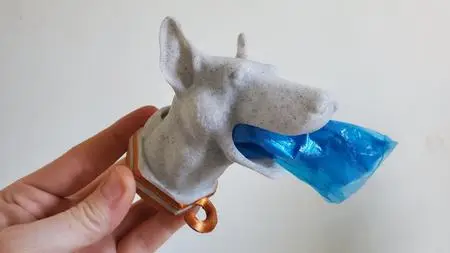 Blender for 3D Printing - Design a Pet Product (204)
Published 02/2023
Duration: 02:54:40 | .MP4 1280x720, 30 fps(r) | AAC, 44100 Hz, 2ch | 2.53 GB
Genre: eLearning | Language: English
Create 3D Print Products with Blender (2023)
What you'll learn
Intro to Blender's Bolt Factory
Rapid Prototyping Techniques
Design a 3D Printed Product Quickly
Flexible Sculpting Workflow
Design Fundamentals for 3D Printing
Basics of 3D Modeling for 3D Printer
Prototyping for 3D Printed Products
Theory of 3D Designing for a 3D Print
Blender Product Design Overview
3D Printing Tool Box - FREE Blender Add On
Bool Tool - FREE Blender Add On
How to Design for No Rafts & No Supports
How to build "Flexible" Design Projects like a Pro
Blender Modeling and Sculpting for 3D Printing Workflows
Easy Guide to Prototype Modeling
Adaptive & Flexible Design Techniques
Practical Designing Theory + Application
Requirements
Basic Understanding of Blender for 3D Printing
FREE Download of Blender - 3D software
Ruler or Calipers
PC, Mac, or Linux Computer
Description
What You'll Learn
In this intermediate course we'll be tackling a complex product design of a dog inspired pet product. You'll learn the steps to approaching a completely original product design. Everything from sketching ideas, using reference images, how to manipulate Blender's bolt factory, and more.THIS IS AN ADVANCED COURSE:This course is not a beginner course. If you are not comfortable in Blender please see our suggested pre-requisites below;
Pre-requisites:Blender for 3D Printing - Beginner Basics & Effects (101) on Udemy.
Watch Time: 2.15 hrs
Design Estimate: 5 hrs
Product Design Planning
Reference Image Workflows
Intro to Blender's Bolt Factory
Rapid Prototyping Techniques
Course curriculum
[EARLY ACCESS COURSE]
Pre-Production Workflow
Project Overview & Multiple Drafts Workflow
Sketch Out Ideas (Paper or Grease Pencil)
Get Photos References
Reference Object Measurements
Design Poop Roll & Leash Objects
Design Your Product Shape
Add Photos
Blocking the Dog Head
Blocking the Jaw & Ears
Blocking Neck (+ Modifiers)
Create Mouth Hole for Thumb
Leash Clips & Screw-On Base
Add Leash Clips
Create a Bolt Collar
Create a Neck Nut
Fix Collar with 3DP Toolbox & Booleans
Design Adjustments
Cut Poop Roll Hole
Add Poop Loop
Add Roll Spikes
Check Mesh for Overhangs
Add Text (optional)
Add Sculpting Details
Prep for Sculpting
Sculpting the Broad Shapes
Sculpting the Medium Details
Prep for 3D Printing
Export for 3D Printing
Slice Prototype for 3D Printing
Final 3D Print (Timelapse)
Outro
We can't wait to see what you create.
Again, In this intermediate course we'll be tackling a complex product design of a dog inspired pet product. You'll learn the steps to approaching a completely original product design. Everything from sketching ideas, using reference images, how to manipulate Blender's bolt factory, and more.
Who this course is for:
Intermediate Blender for 3D Print Design Users
Students who want their design ideas to be 3D Printed.
Students who want to learn flexible design skills to 3D Print their ideas into reality.
3D Printer users who want to start 3D Printing their own creations.
Students interested in 3D Product Design for rapid prototyping.
Those who want to join an online community of 3D Designers to grow their skills.
Someone who wants to boost their creativity.
Someone who wants to become a Professional 3D Print Designer.
More Info