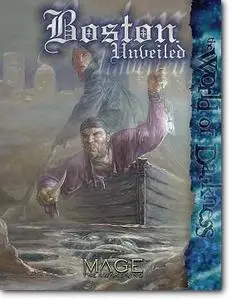 Kraig Blackwelder, Stephen Michael Dipesa, Malcolm Sheppard, «Boston Unveiled»
White Wolf Publishing | ISBN 1588464199 | 2005 Year | PDF | 14,83 Mb | 152 Pages
Within the pages of Boston Unveiled, you will find everything you need to begin to craft your own adventures for the Awakened in and around the City on a Hill.
• Chapter One: Maps and Legends —This chapter details the history of Boston and its surroundings, from both the Sleeping and Awakened perspectives. In this chapter, the region's many intertwined strands of destiny are explored. Boston was once a revolutionary city, full of ideas and promise. Its possibilities have been fading, lost in a mire of apathy and the frantic pace of too-rapid change. What legacies continue to reach forward, out of history, to continue to affect the present? These legacies not only give Boston's past an identity but also serve, through means both mystic and mundane, to define its future.
Here, you'll also get a look at the modern face of Boston and its environs, the kinds of things a newly arrived visitor (or transplant) to the area might notice or find interesting. A bit of geography, significant landmarks and the like are to be found here, as they pertain to long-time residents, newcomers and those just passing through.
• Chapter Two: Cabals —Presented here are the cabalsof the Awakened orders and the politics and enmities that both hold the Awakened of the region together and threaten to drive them apart. The alliances, accords and enmities of the Wise are explored and the major local factions of the Awakened are discussed in depth.
• Chapter Three: Renegade Mages —Of course, the Atlantean orders aren't alone in Boston. The machinations of rival mages abound, and this chapter details their willworkers and their cabals: the alliances, feuds and outright wars between these renegades as well as the ways in which they interact with the Atlantean orders and, of course, the Sleeping world that binds all together.
• Chapter Four: Off the Map — Along lonely roads, in deep woods and on the grounds of isolated and ancient houses, strange things lurk. Boston and its surroundings have long known the tread of those who walk in other realms — centuries-long hauntings, spirits both benign and malevolent and creatures unknown to either science or superstition, just to name a few. This chapter explores the local spirit realms and their denizens, the beings that exist sometimes perhaps just beyond the peripheral vision of the Sleeping world and, sometimes, well outside the awareness of all save perhaps the most dedicated (or foolhardy) mage.
• Chapter Five: Beast of Burden —Presented here is a sample story with which to begin a Boston chronicle — an event that will test the characters' abilities to win friends and allies or create new enemies in their attempts to restore the dead to life.