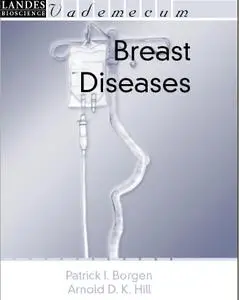 Patrick I. Borgen and Arnold D. K. Hill, «Breast Diseases»
Landes Bioscience | ISBN 157059578X | July 2000 | PDF | 196 Pages | 6,1 Mb
A portable handbook that describes the diagnosis and management of malignant and benign breast disease for surgeons, gynecologists, oncologists, residents and fellows, medical students, and nurses.
Book Info
Memorial Sloan-Kettering Cancer Center, New York, NY. Pocket-sized, spiral-bound handbook which encapsulates current thinking on a wide range of topics, from normal breast anatomy through the management of Stage IV breast cancer. For medical students, residents, and physicians
Customer Reviews
Reviewer: Gloria S. Slater "Emily" (New York)
This book isn't a novel, but if it was, it would be the best novel of the 20th century, American or otherwise. In short, this is the most wonderful book that I have ever read in my entire life, and I have led a long and full life.
Reviewer: A reader
This factual Hand book is a Wonderfull addition to anyones libary and is all you have to know about the subject. It is breast cancer in a sergants point of veiw. it is great book for anyone who has the disease or is curious by yourself a copy today!
Reviewer: Mary Slater (Bedford, New York USA)
This book is full of all the information you need to know about how to handle any problems you may have, from the beggining to the end. It is perfect for a grad school student and it fits perfectly in your lab pocket. The way it is setup is perfect for quick reference.
Download:
http://rapidshare.de/files/19425079/Breast_Diseases.rar.html