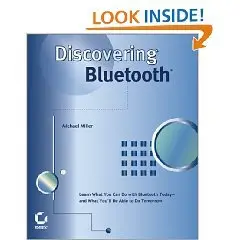 Discovering Bluetooth
Sybex Inc | July 10, 2001 | ISBN: 0782129722 | 288 pages | PDF | 1.7mb
Bluetooth is a wireless technology that lets users make wireless and instant connections between various communication devices, such as mobile phones and desktop and notebook computers. Since it uses radio transmission, transfer of voice and data is in real time. This sophisticated mode of transmission also ensures protection from interference and provides for the security of the data transmitted. The Bluetooth radio is built into a small microchip and operates in a globally available frequency band ensuring communication compatibility. This text includes a detailed discussion of what Bluetooth is; a thorough description of the devices that can support Bluetooth; instruction on how Bluetooth devices can be implemented in the work environment; and information on how it can be implemented in the home.