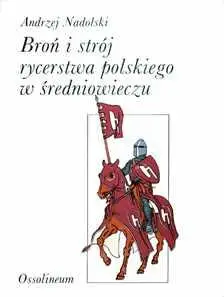 Broń i strój rycerstwa polskiego w średniowieczu
126 pages | ISBN 83-04-00108-X | English | PDF | 3.92 Mb
Wydana niecałe ćwierć wieku temu pozycja nie prezentuje się okazale, sprawia raczej wrażenie podręcznika dla dzieci niż dzieła traktującego o historii stroju i uzbrojenia.

Okazuje się jednak, że mamy przed sobą dzieło wyjątkowe - napisane bardzo prostym językiem, ale przekazujące esencję treści. Nie znajdziemy tutaj stereotypów w rodzaju ciężkich mieczy, walki polegającej przede wszystkim na sile itp. Co więcej, autor stara się walczyć z owymi stereotypami oraz ignorancją, często wygłaszając cierpkie uwagi np. pod adresem reżyserów, czy malarzy.

Nadolski przedstawia krótki zarys historii broni i uzbrojenia w Polsce w epoce średniowiecza jasno i kompletnie. Może trochę brakuje większej liczby ilustracji i zdjęć, np. szczegółów konstrukcji zbroi (jak w Arms & Armor of Medieval Knight.

O klasie książki mówi to, że w większości późniejszych dziel zajmuje jedną z pierwszych pozycji w bibliografii i widać liczne do niej nawiązania. Swego czasu było to dzieło przełomowe, a jego świetność jeszcze nie przeminęła i nie zanosi się, aby stało się to w najbliższym czasie. Lektura obowiązkowa dla każdego.
Download