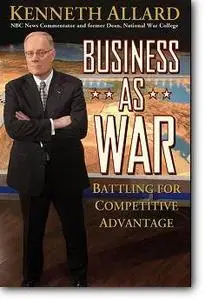 Kenneth Allard, «Business as War - Battling for Competitive Advantage»
Wiley | ISBN 0471468541 | 2003 Year | PDF | 1,53 Mb | 240 Pages
The author, a former army colonel currently featured as a military analyst on MSNBC and NBC News, is convinced that corporate America can learn vital lessons from the U.S. military. Business executives, according to Allard (Command, Control and the Common Defense), today function in a chaotic atmosphere dominated by globalization and rapidly changing information technology. He argues that recent corporate scandals such as the collapse of Enron as well as the high salaries of CEOs are symptomatic of the lack of leadership in industry, a loss that seriously impedes business success. Drawing on myriad examples from the military, Allard provides a series of war plans that he believes can change the corporate environment. Included is a recommendation to emulate the training followed at West Point to build idealistic managers, to devise overall military-like strategies rather than marketing plans and to be aware of and responsible for security programs to combat electronic terrorism. While Allard's proposals to improve business leadership have merit, many of the military analogies are repetitive and forced. Much of his advice is delivered in an off-putting, hectoring tone that sometimes borders on bragging, and his potshots at former president Clinton feel inappropriate for a business manual.