At request. Reupload. Link was deleted.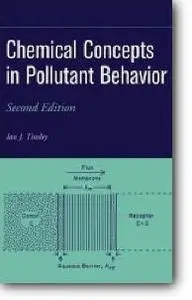 Ian J. Tinsley, "Chemical Concepts in Pollutant Behavior" (2nd edition)
Wiley-Interscience | ISBN 0471095257 | 2004 Year | PDF | 2,83 Mb | 416 Pages
The best intermediate-level text on determining the environmental fate and distribution of organic compounds For each chemical introduced into the environment, there is the chance that that chemical will travel from its release point and move through various ecosystems at large. Great distances can be covered; detection has revealed unexpected compounds on mountain peaks and in polar regions. The relatively new field of environmental chemistry seeks to understand and predict these distributions; over its twenty-five years of development, scientists have greatly refined existing knowledge of how organic compounds behave in the world outside the laboratory. Chemical Concepts in Pollutant Behavior, fully updated in this Second Edition, provides a detailed applied chemistry resource for understanding the current state of environmental chemistry. Based on tried-and-true methods developed by the author over years in the classroom, this student-friendly text requires an introductory knowledge of chemistry yet develops in-depth coverage of: Physical chemical parameters Sorption Evaporation Absorption and bioconcentration Photochemical processes Redox processes Hydrolysis Metabolic transformation Synthesis, or how the above processes interact While taking up traditional problems of interactions between water, soil, and air, the text also explores discussions of uptake by plants from soil and absorption by foliage from the air. Though the text remains focused on compound behavior, the author takes a holistic approach to the subject, emphasizing its interdisciplinary nature. Well-referenced and illustrated, Chemical Concepts in Pollutant Behavior, Second Edition represents an excellent text for intermediate students of chemistry as well as an accessible reference for professionals working with environmental issues requiring chemistry expertise.