Стародубцева Н. С., Вэнь Цзянь
Китайский язык в диалогах
Издательство: ИД «Муравей», 2004 г., 48 стр.
PDF + Audio (OGG) ISBN 5-478-00066-3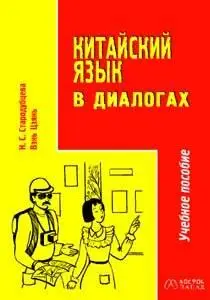 Целью учебного пособия является развитие способности к свободному общению на китайском языке. Пособие состоит из 10 уроков, где представлены диалоги, отражающие реальные жизненные ситуации. Издание сопровождается аудиокурсом, содержащим запись нормативного произнесения новых слов и диалогов, а также упраж-нения на аудирование.
Пособие рекомендуется в качестве дополнительного материала к основным вузовским учебникам китайского языка, а также для самостоятельной работы.
Chinese Dialogues
This handbook aims at developing students' capability of fluent communication in Chinese. It comprises 10 chapters presenting real situational dialogues. The course is accompanied by the audio material.
Language: Russian
PDF (2.70 MB) + Audio (OGG - 19.38 MB+22.03 MB)
текст
аудио А
аудио Б
Бумажные издание можно приобрести по адресу:
http://muravei.ru/books.php?show=a_booksho…rm_book_id=1039