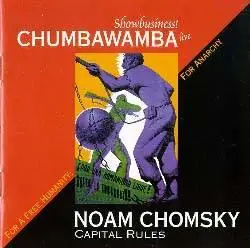 Noam Chomsky, «Capital Rules» (Audiobook)
Published by AK Press | ISBN 1873176740 | 12/9/1995 | 53 minutes
MPEG-1 layer 3 | 44100Hz Mono | Narrator Noam Chomsky | 1 .rar file | 17,6 MB
Another articulate and immediately accessible description of Corporate America's unrelenting attack on poor and working class people. From the attack on unions to the well crafted business propaganda campaigns, Chomsky provides us with a clear picture of how US Capital is leading us down a path of a two tiered society with islands of extreme wealth in a sea of poverty.
Chomsky seems much less concerned with the faults of capitalism as such, than with the extent to which current markets fall short of the ideal. In another lecture, Capital Rules, Chomsky faults libertarians for failing to see that corporate America is the "substance" of which overreaching government is merely the "shadow." There's a certain degree of truth there, and libertarians might've gained a valuable ally if Chomsky hadn't stopped short of realizing that the remedy isn't the abolition of markets, but rather a government too limited in power and scope to be worth buying on the market.
RS Link Audio
RS Link Cover
Uploaders note
: More Chomsky? Self-help? Educational (topic)? Buddhism? Now taking requests.