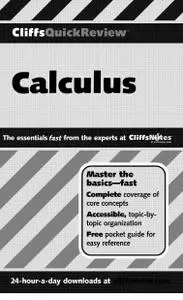 B. V. Zandy & J.J.White - «Cliffs Quick Review Calculus»
Hungry Minds Publishing | ISBN 0764563769| 2001 | 130 pages | PDF | 7,3 MB
Calculus is the mathematics of change. Any simation that involves quantities that change over time can be understood with the tools of calculus. Differential calculus deals with tates of change or slopes, and is explored in Chapters 3 and 4 of this book. Integral calculus handles total changes or areas, and is addressed in Chapters 5 and 6. Although it is not always immediately obvious, this mathematical notion of change is essential to many areas of knowledge, particularly disciplines like physics, chemistry, biology, and economics.
The prerequisites for learning calculus include much of high school algebra and trigonometry, as well as so me essentials of geometry. If the formulas on the front side of the Pocket Guide (the card stock page right inside the front edver) and topics covered in Chapter ı are familiar to you, then you probably have sufficient background to begin learning calculus. If some of those are unfamiliar, or just rusty for you, then CliffiQuickReview Geometry, CliffiQuickReview Algebra, or ClijfiQuickRcview Trigonometry may be valuable starting points for you.
Download