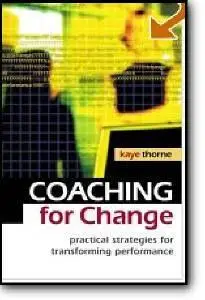 Kaye Thorne, «Coaching for Change : Practical Strategies for Transforming Performance»
Kogan Page | ISBN 0749441682 | 2004 Year | CHM | 0,67 Mb | 224 Pages
Shows how coaching can be slotted into mainstream training and change programs
Includes advanced questioning and listening techniques to help individuals plot a route to success
Offers practical guidance from one of the most popular writers in the field
Includes case studies and proven practical advice
Placing coaching right at the heart of the broader Human Resources (HR) and training arena, Coaching for Change draws on research at companies that have thrived because of their ongoing development of leadership and change. It shows how companies that provide their people with change and development experiences are more successful at creating loyal employees. The book also examines how change happens, both at the organizational and individual level, and why, despite a desire to change, some people (and organizations) find change difficult to achieve.

Contents include:

Creating a coaching landscape
Leaders who coach
motivation to change
Organizational change
Coaching conversations
Coaching skills
Coaching the new learners
Remote coaching
Coaching – the way ahead.