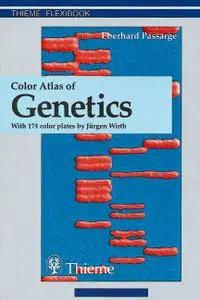 Eberhard Passarge, Color Atlas of Genetics 2nd. Edition
Thieme Publishing Group, 2nd. Edition, revised & enlarged | ISBN: 3131003626 | 2001 Year | language: english | pdf | 370 pages | 27,5 Mb
The long awaited second edition of a bestselling book! Using beautiful, clear graphics, this Thieme Flexibook explores the fundamentals of genetics, including the molecular, cellular, and chromosomal basis of genetics and gene expression. The structure, function, and evolution of genes and gene systems are also described. A major section covers the important functional areas of particular relevance in the medical field (embryonic development, cellular signal transmission, immune system, oxygen-transmitting gene systems, growth factors, carcinogenic genes, and numerous other functions).
Download