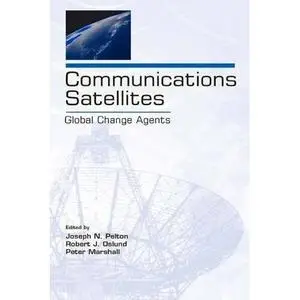 Joseph N. Pelton, Robert J. Oslund and Peter Marshall,
Communications Satellites: Global Change Agents (Telecommunications)
ISBN: 0805849610 | Format: PDF | Pages: 410 | Size: 23,2 Mb
Over the past 40 years, satellites have played a key role in creating a global culture, in spreading worldwide entertainment, stimulating technological interchange, and promoting trade around the world. Satellite-distributed news reaches the world "live from space" and allows more than 200 countries to interact in real time. Especially in today's complex and dangerous international climate the role of satellite communications is more important than ever. Thus, the idea was to write a book with enough breadth to be of interest in several different disciplines, but in sufficient technical depth that it could be used in beginning engineering courses as well. Intended to be the definitive book on satellite communications, the editors and contributors examine satellite communications in terms of not only the technology and the services they provide but also the technology's socio-political, security, economic, policy, news, entertainment, and cultural impact. They provide an entertaining, thought-provoking, and interesting book that explains how satellites are extremely powerful change agents on a global scale. As such, this book addresses what satellites have been, how they are designed and built, how they will evolve in the future, what they mean to the world today, and what they will mean tomorrow.
http://rapidshare.com/files/1796933/CommunicSatellites.rar