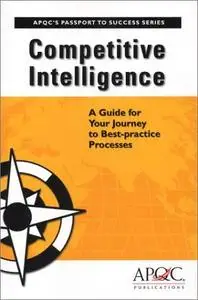 Paige Leavitt, John Prescott, Darcy Lemons, Farida Hasanali
Competitive Intelligence: A Guide for Your Journey to Best-practice Processes
APQC | ISBN 1928593968 | 2004 | 81 pages | CHM | 2.3 MB
The Passport to Success series, from the American Productivity & Quality Center, consists of easy-to-use, low-priced resource guides that help readers understand and implement programs and processes in a variety of functional areas. These books are intended to guide readers on what can be a difficult journey through somewhat foreign territory. Each book in this series provides readers with the mechanisms to gauge their current status, understand the components of a successful initiative in a specific topic area, and determine how to proceed within their own organization.
The newest book in this series is full of processes, definitions, and figures to introduce readers to how to successfully create, manage, and expand a competitive intelligence function.
Competitive Intelligence: A Guide for Your Journey to Best-practices Processes details what is competitive intelligence (CI) and how to develop and manage a CI program. Based on APQC's seven years of benchmarking research on competitive intelligence, this straightforward guidebook also details best practices in coordinating actionable intelligence–including science and technology intelligenc–and attending to the competitive intelligence audience.
With "travelers tips" and end-of-chapter questions to check your status on this "journey to best-practice processes," Competitive Intelligence details: what should be expected of CI providers, a five-step model for development, developing a focus and implementing a competitive intelligence effort, how to institutionalize and modify your competitive intelligence function, and honing the function's services and products to your organization's needs.