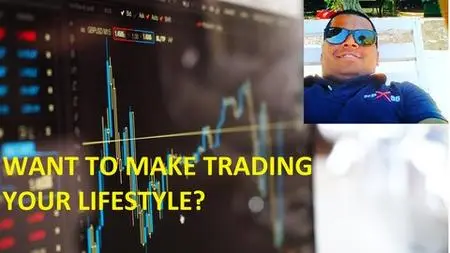 Complete Day Trading Fundamentals with Strategies
.MP4 | Video: 1280x720, 30 fps(r) | Audio: AAC, 44100 Hz, 2ch | 1.29 GB
Duration: 3 hours | Genre: eLearning Video | Language: English
Day Trading Fundamentals, Technical Analysis & Strategies For Forex, Crypto, Stocks, Index trading & Financial Trading.
What you'll learn
Develop an understanding of how to select a market to day trade and also suits your personality in Day Trading
Help you understand the purpose of Day Trading and why most amateur traders lose money in financial markets
How to think and trade different to an average retail Day Trader by using a structured way for technical analysis
How to understand your risk tolerance, understanding the link between risk to reward and success rate in Day Trading.
How to use Support and Resistance in Day Trading
How to use confluence with momentum to support your trading decisions
How to use Reversal Patterns from key levels in Day Trading
Understanding the importance of Pivot Points
What are the most effective indicators for Day Trading.
How to have an edge by most commonly used indicators in Day Trading
How to read RSI indicator
How to use MA and EMA
How to use Bollinger Bands
How to identify the Market Structure and Direction by using a simple method.
How to use logical interpretation of the market from information you gather from technical analysis to make a trading plan for Day Trading.
Understanding of how professional traders win consistently in financial markets and best practices.
Examples of Three of my own trading strategies that I used successfully for the last 5 years which works in different market conditions.
Requirements
Basic understanding and interest of the Financial Markets
No Prior knowledge in trading required
Open Mind and willingness to learn
Ability to think counter-intuitive
Description
In this course you will learn what it takes to become a Day Trader and how to think like one.
I have put much effort to explain the importance of Market Analysis and teaches you to do the Market Analysis in a counter intuitive method in order to be within 10% of the traders who actually make money in Financial Markets.
The aim of this course is to give you a solid foundation in Day Trading, regardless of the market you personally trade, understand the market behaviour, patterns, and key levels. Therefore I have tried my best to give you strategies and examples which works in multiple markets and in different market conditions.
In the end I have given away two of my high probability Day Trading systems and a Swing Trading System that I use in my own trading, where you can apply to any market that you personally trade.
Another purpose of this course is to make you think different to an average retail trader, and come up with a logical way to develop a complete trading plan for a Day Trading. Therefore this course was designed in a very structured way from the beginning to ultimately help you read the price action, analyse, plan and execute trades of your own.
This course is for:
For all beginner and intermediate traders, those who are willing to learn counter-intuitive techniques used by Professional traders.
Medium term Investors who wants to learn how to analyse Markets and read price action.
Advance Traders those who looking for advanced techniques and strategies to use in Financial Markets.
For all traders those who wants to make the transition to Day Trading.
Who this course is for:
Beginner and all levels of Traders
Traders who wants to make transition to Day Trading
Investors