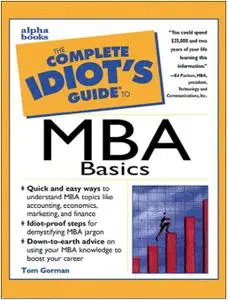 Tom Gorman
«The Complete Idiot's Guide to MBA Basics, 1st Edition»
Wiley | ISBN 978-0786542187 | (1998) | 1st Edition | pdf | 199/375 pages (partial file) | 20.3 MB
Book Description
A revised edition of the popular classic, this title features updated topics to build MBA knowledge. Students and managers alike will learn about management skills, business operations, financial statements, marketing, product development, customer service, strategic planning, information management, and quality management.
Updated coverage includes global and international business, knowledge management, e-commerce, supply chain management, sales channel management, and financial integrity and ethics.
Download Description
You're no idiot, of course. At the office you meet your deadlines, schmooze your boss, and turn in quality work. But when it comes to understanding the skills of higher management, you think you need Finance 101! Relax–class is in recess! The Complete Idiot's Guide to MBA Basics teaches you everything you need to know about management–but were afraid to ask. You will learn the key concepts of accounting, economics, finance, operations, and marketing–and use them to improve your workplace and your career.
From the Back Cover
You're no idiot, of course. At the office you meet your deadlines, schmooze your boss, and turn in quality work. But when it comes to understanding the skills of higher management, you think you need Finance 101! Relax–class is in recess! The Complete Idiot's Guide to MBA Basics teaches you everything you need to know about management–but were afraid to ask. You will learn the key concepts of accounting, economics, finance, operations, and marketing–and use them to improve your workplace and your career. In this Complete Idiot's Guide, you get