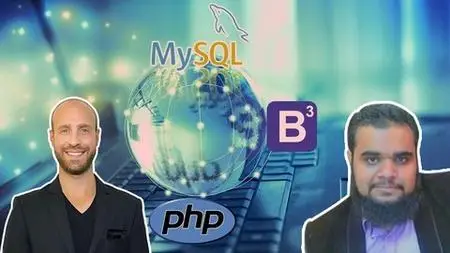 Complete PHP Course With Bootstrap3 CMS System & Admin Panel (Repost)
Video: .mp4 (1280x720, 30 fps(r)) | Audio: aac, 44100 Hz, 2ch | Size: 3.19 GB
Genre: eLearning Video | Duration: 144 lectures (19h 54m) | Language: English
In this complete course students will learn how to use PHP with Bootstrap3 as well as A CMS System and Admin Panel.
What you'll learn
You will be able to create beautiful Dynamic websites using HTML5, Bootstrap and PHP
You will be able to Create web Applications Like Admin Panel, Management softwares etc…
You will be able to Create thier Own CMS System with thier own Restriction, Style and theme. Other CMS Systems? No need.
Requirements
Some Basic Knowledge of HTML is required
A Simple Notepad. We'll use Notepad++
An Openness To Learn A New Skill
Description
Welcome To The Complete PHP Course With Booststrap3 CMS System & Admin Panel
Student Success Testimonials!
7 days ago
"Excellent course, deserves more than 5 stars for the effort these 2 instructors have taken to deliver a polished, excellent course.. Actually coding a blog from scratch in php, without using wordpress, by manually programming in html css php bootstrap…. Real life project. Responsible instructors, they add new lectures when students suggest good ideas.. Thank you so much Joe and Shahzaib." -Bryce S. Dyra
9 days ago·
"This course meets all that I was looking for. Very comprehensive and useful for anyone looking for PHP development, Bootstrap and more. I highly recommend this course to anyone, beginner or more advanced students. Great for all. A big thank you to both instructors for creating this course for all of us"
This Course is for Everyone, Newbies, Beginners and Professionals. This Course will provide you the Basic Understanding of the PHP to the Advance Techniques to Create beautiful Applications. After watching this complete course, You will find how easy is to make a Complete Personal CMS System with an Advanced Admin Panel Using Bootstrap 3.
With the right mindset, understanding, and application of the teachings in this course, you will instantly begin to move towards Using PHP With Booststrap3 CMS System & Admin Panel!
When I learn something new, I add it to the course - at no additional cost to you! This is a course that will continue to add more and more to every aspect of your life.
In addition to the Udemy 30-day money back guarantee, you have my personal guarantee that you will love what you learn in this course.
What I can't do in this Course..
I can't guarantee your success – this course does take work on your part. But You Can Do It!
I am also not responsible for your actions. You are responsible for 100% of the decisions and actions you make while using this course.
Who this course is for:
Who want to Learn PHP from Basics and want to become a Professional
Who want to Create thier own Management System for thier Website.
Who want to Create Web Applications
Who want to Create Dynamic Websites with some Easy Ways
Who want to Use Bootstrap on PHP Projects.