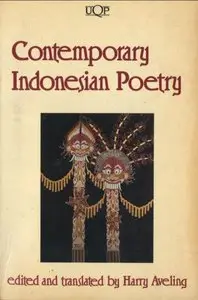 Harry Aveling
Contemporary Indonesian Poetry: Poems in Bahasa Indonesia and English
Publisher: University of Queensland Press | 1986 | ISBN-10: 0702209325 | ISBN-13: 978 0702209321 | English/Indonesian | PDF | 261 pages | 7.05 Mb
Poems in Bahasa Indonesia and English (Asian and Pacific Writing). A bilingual edition.
The poems are intensely modernist, with frequent evocations of New York. Perhaps more surprisingly, there is a lot of Christian imagery, starting from the first poem.
Some I found beautiful or shocking, others a bit boring. You decide.
Regardless of the aesthetics, the book is an excellent resource for students of Indonesian at all levels.