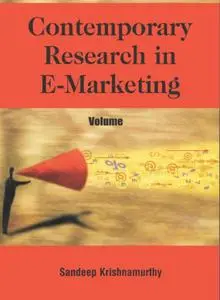 Sandeep Krishnamurthy «Contemporary Research In E-marketing»
Idea Group Publishing | ISBN 1591408253 | 1st edition (July 29, 2005) | CHM 375 Pages| 8.31 MB
Contemporary Research in E-Marketing
brings the intrinsically inter-disciplinary work of e-marketing, by academic researchers from various fields, to one outlet. This book fuels the cross-fertilization of ideas and greater dissemination of key research concepts. Contributions from fields as diverse as marketing, management, MIS, communication, computer science and finance offer exposure to cutting-edge ideas with broad scope and international focus.
About the Author:
Sandeep Krishnamurthy
is associate professor of e-commerce and marketing in the Business Administration Program at the University of Washington, Bothell. He obtained his PhD from the University of Arizona in marketing and economics. His research interests are in the area of e-Marketing, e-commerce and open source software. Most recently, he has published a 450-page MBA textbook, E-Commerce Management: Text and Cases. His scholarly work on e-commerce and open source software has appeared in journals such as Business Horizons, Journal of Consumer Affairs, Journal of Computer-Mediated Communication, Quarterly Journal of E-Commerce, Marketing Management, First Monday, Journal of Marketing Research and Journal of Service Marketing. Sandeep also works in the areas of generic advertising and non-profit marketing. His work in generic advertising has appeared in journals such as Organizational Behavior and Human Decision Processes (OBHDP) and Marketing Letters. His work in non-profit marketing has appeared in the International Journal of Non-Profit Voluntary Sector Marketing. He currently serves as associate book review editor for the Journal of Marketing Research and is a co-editor for a special issue of the International Marketing Review. He regularly reviews papers for a variety of journals including Marketing Science and the >Journal of Advertising. His writings in the business press have appeared on Clickz.com, Digitrends.net and Marketingprofs.com. His comments have been featured in press articles in outlets such as Marketing Computers, Direct Magazine, Wired.com, Medialifemagazine.com, Oracle's Profit Magazine and The Washington Post. He has developed and taught several innovative courses related to e- commerce to both MBA and undergraduate students. Most recently, he developed and taught a course titled "Search and the World Wide Web". He was responsible for founding the management information systems (MIS) concentration in the business program.