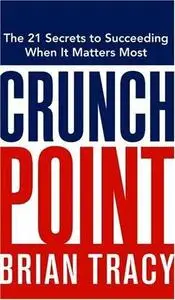 Brian Tracy, «Crunch Point: The 21 Secrets to Succeeding When It Matters Most»
AMACOM | ISBN 0814473717 |
Edition - 2007 (Not Released Yet)
| PDF | 117 Pages |1,40 Mb
It's inevitable: no matter what industry, no matter how well run the company or department, unexpected problems emerge, setbacks occur, and crises arise. The difference between success and failure during these crucial moments is in how (and whether) one rises to the occasion. In Crunch Point, success expert Brian Tracy lets readers in on the secrets to shining in the kind of tough situations that make others fall apart.
Written in Tracy's trademark direct style, each short, to-the-point chapter is packed with powerful techniques that will enable readers to deal swiftly and effectively with any difficulty that comes their way. The book presents proven strategies to:
stay calm
take control of the problem
communicate clearly and quickly with key people
project confidence and authority
eliminate barriers blocking a speedy resolution
focus on key result areas
tap one's inner reserves of energy and strength
and much more!
With Crunch Point, readers will not only learn how to survive the most stressful and difficult situations – but thrive in the face of tremendous pressure and come out a winner.
Download Here
Password:
spiderman
It is my original post for the community. If U wish me to continue posting more latest ebooks for the members, please don't post mirrors, as a recognition of my efforts for you. Thanks!!!