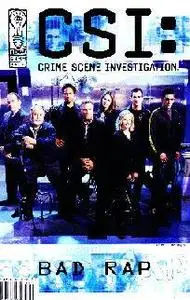 CSI - Bad Rap
Titan Books | ISBN 1840237996 | 2004 | PDF | 11.8 + 11.1 + 9.5 + 15.1 + 14.3 MB | 144 pp

CSI (Crime Scene Investigation) is the US Number 1 TV show, currently breaking viewing records on Channel 5 in the UK. The show follows a Las Vegas team of forensic investigators who know the crime scene is the key to solving any murder.

Rapper Busta Cap has as many enemies as he does rhymes. So, when he is shot, the list of suspects is long and includes Busta's East Coast rivals and the enraged father of his dead-by-overdose girlfriend. The CSI team must follow the killer's trail through a maze of clues before the murderer can be brought to justice.