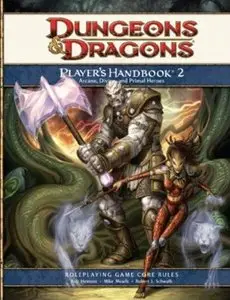 Jeremy Crawford, Mike Mearls, James Wyatt, Player's Handbook 2
Wizards of the Coast | 2009-03-17 | ISBN: 0786950161 | PDF | 224 Pages | 14 Mb
A recent Dungeons and Dragons core rule book release.
Player's Handbook 2 expands the range of options available to D&D players with new classes, races, powers and other material.

This book builds on the array of classes and races presented in the first Player's Handbook, adding both old favorites and new, never-before-seen options to the game.

The book adds a new power source for 4th Edition D&D: classes using the new primal power source include the barbarian and the druid.
Download