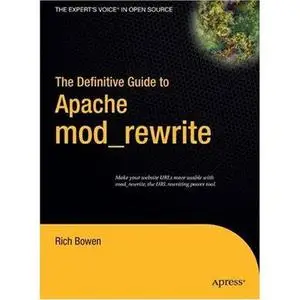 Publisher: Apress (February 8, 2006)
Language: English | ISBN:1590595610 | Pages:160 pages | Format: PDF | Size: 1mb
Book Description
Organizing websites is highly dynamic and often chaotic. Thus, it is crucial that host web servers manipulate URLs in order to cope with temporarily or permanently relocated resources, prevent attacks by automated worms, and control resource access.
The Apache mod_rewrite module has long inspired fits of joy because it offers an unparalleled toolset for manipulating URLs. The Definitive Guide to Apache mod_rewrite guides you through configuration and use of the module for a variety of purposes, including basic and conditional rewrites, access control, virtual host maintenance, and proxies.
This book was authored by Rich Bowen, noted Apache expert and Apache Software Foundation member, and draws on his years of experience administering, and regular speaking and writing about, the Apache server.
About the Author
Rich Bowen is a world-recognized expert and member of the Apache Software Foundation. He has authored several books on Apache, and regularly contributes to the Apache Server documentation project.
Download from Oxyshare:
Oxyshare seems to have some problem with their network. I will try to upload on their network later.
Download from Rapidshare