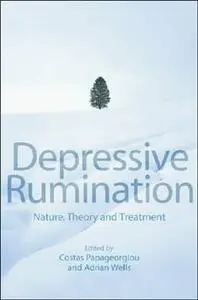 hxxp://rapidshare.de/files/23845308/289393.rar
pass:LekarMirror
hxxp://www.oxyshare.com/my/edit/24769
pass:LekarReview
"A book of unique chapters that should be found in each clinician's office and each psychology student's backpack." (Journal of Psychosomatic Research 58:(2005) 309, 20th July 2005)
"This book provides an authoritative, up-to-date account of current theoretical thinking and research about depressive rumination and its treatment…essential reading for researchers investigating depressive rumination…" (British Journal of Clinical Psychology, 20th July 2005)
Book Description
Rumination (recyclic negative thinking), is now recognised as important in the development, maintenance and relapse of recurrence of depression. For instance, rumination has been found to elevate, perpetuate and exacerbate depressed mood, predict future episodes of depression, and delay recovery during cognitive therapy.
Cognitive therapy is one of the most effective treatments for depression. However, depressive relapse and recurrence following cognitive therapy continue to be a significant problem. An understanding of the psychological processes which contribute to relapse and recurrence may guide the development of more effective interventions.
This is a major contribution to the study and treatment of depression which reviews a large body of research on rumination and cognitive processes, in depression and related disorders, with a focus on the implications of this knowledge for treatment and clinical management of these disorders.
* First book on rumination in depressive and emotional disorders
* Contributors are the leaders in the field
* First editor is a rising researcher and clinician with specialist interest in depression, and second editor is world renowned for his work on cognitive therapy of emotional disorders
Product Details
* Paperback: 296 pages
* Publisher: John Wiley & Sons (December 2, 2003)
* Language: English
* ISBN: 0471486930
* Format: PDF
* Price: $46.81
* Size: 1.92 MB