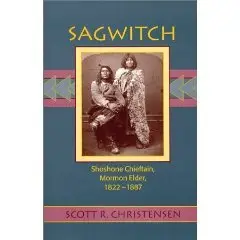 Sagwitch: Shoshone Chieftan, Mormon Elder, 1822-1887
Utah State University Press | Routledge | 272 pages | 1999 | ISBN: 0874212707 | PDF | 2 mb
Sagwitch, a leader of the Northwestern Shoshone, grew up at a time when European Americans began arriving in his homeland west of the Rocky Mountians. As the stream of emigrants began to grow, the Shoshone felt the strain on their resources and tensions mounted. Confrontations between the settlers and the Shoshone became more frequent culminating in the 1863 Bear River Massacre–the worst Native American massacre in U.S. history. Sagwitch lost his wife and two adopted sons.
Though wounded, Sagwitch lived to lead the desperate surviors. Believing their best hope lay in joining the people who occupied their homeland, Sagwitch and his band were baptized as Mormon. That enduring relationship led to the founding of the Washakie Indian colony in northern Utah.
This is the long awaited story of this courgeous leader and his people who endured near annihilation.