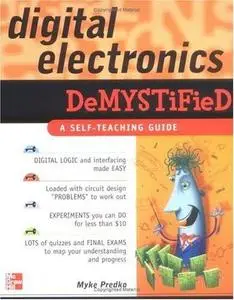 Myke Predko, «Digital Electronics Demystified»
Publisher: McGraw-Hill | Dec 2004 | ISBN: 0071441417 | Pages: 370 | Format: PDF | Size: 13 MB
Now anyone can gain a deeper understanding of digital electronics – without formal training, unlimited time, or a genius IQ. In Digital Electronics Demystified, electronics expert and author Myke Predko provides a totally painless way to learn enough digital logic and electronics to build your own projects!
With Digital Electronics Demystified, you master the subject one simple step at a time – at your own speed. This unique guide offers problems at the end of each chapter and section to pinpoint weaknesses, and a 100-question final exam to reinforce the entire book.
This entertaining self-teaching course makes it fun and easy to learn digital electronics fast. Get ready to:
* Learn the ins and outs of CMOS logic, Programmable Logic Devices, and microprocessor/microcontroller interfacing
* Rub shoulders with MML (Mickey Mouse Logic), semiconductor chips, timing devices, and other digital phenomena
* Understand how computers "think"
* Cease shying away from feedback circuits
* Build digital projects for less than $10
* Create a marketable product
* Rate your progress with questions and quizzes