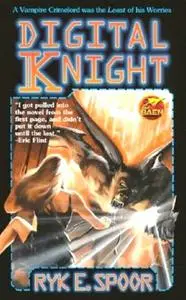 Ryk E. Spoor, Digital Knight

Publisher: Baen | ISBN: 074347161X | 2003 Year | language: english | pdf | 384 pages | 1,23 MB



Digital Knight is a series of stories narrated by the book's hero, Jason Wood, a private detective/computer geek/accidental paranormal expert. The stories chronicle his adventures as he, along with his close lady friend and psychic Sylvie, stumble into the world of the not so normal, and find that it's even more not so normal than they'd ever expected. Strange things abound, from real-live werewolves, to a vampire who is older than anyone expects to an ancient myth that turns out to be true… sort of.

A first work for its author, Digital Knight is an interesting book in that it represents a body of work that shows how an idea can evolve over time. Clearly, Mr. Spoor didn't originally intend the characters to take the course they did, based on the first couple stories alone. What appears to be a simple series of stories involving vampires and werewolves and paranormal such things, turns into a strange albeit entertaining alternate mythology with a lot more in it than simple vamps.

The evolution of the idea turns out not to be that bad of a thing. Spoor manages to take the cliches' of these old wives' tale bad guys and creates something entirely different and unique, albeit far fetched at times. The effect is such that the reader makes discoveries at the same pace as the author and characters do. It makes for a fun read. Ultimately, the stories easily keep your interest throughout, and a number of the characters are interesting enough to make you care about what happens to them.
Download