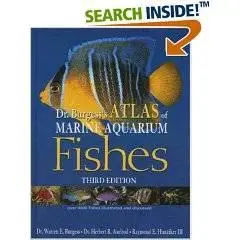 Warren E. Burgess, Atlas of Marine Aquarium Fishes
TFH Publications | ISBN 0793805759 | 2000 Year | Djvu | 784 Pages | 102,4 Mb
This is THE resource book for marine fish identification, from the same authors of Dr. Axelrod's Freshwater Atlas. It contains over 4600 full color photos portraying absolutely all of the more popular species, plus a huge amount of really rare, exotic and wierd ones. Each photo is accompanied by the species' characteristics such as scientific name, family, size, optimal aquarium conditions and care info. If you can afford this book, it's definitely a must have. I can't imagine a serious saltwater Fish Shop whose owner doesn't have a copy of this book at hand.
Атлас морских аквариумных рыб
д-ра Берджесса

* более 4000 (четырех тысяч!!!) цветных фотографий с латинскими названиями и минимальными данными по биологии каждого вида
* описания семейств общим объемом 45 стр.
* указатель латинских и английских названий.
Есть практически все, что Вы можете попытаться запихнуть в свой аквариум, вплоть до китовой акулы.
Классический капитальный труд, аналоги отсутствуют.
Книга остро необходима крутым профессионалам и состоятельным любителям.
Part 1
Part 2