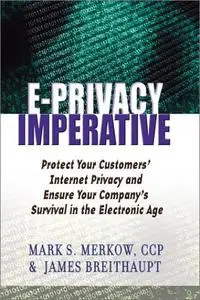 The E-Privacy Imperative : Protect Your Customers' Internet Privacy
and Ensure Your Company's Survival in the Electronic Age
By
Mark S. Merkow, Jim Breithaupt
Book Description
With their potential for vicious customer backlash and devastating sales drops, Internet privacy infractions–such as selling e-mail lists and personal data or operating an insecure site where credit-card or competitive-pricing information can be stolen–have become deadly serious business concerns.
The E-Privacy Imperative is especially designed to help Web site owners and operators protect themselves, their customers, and their businesses through careful technology practices and responsible information handling. Readers will:
* Understand the key arguments of privacy advocates, including major threats to privacy and federal regulations concerning privacy
* Learn to avoid both purposeful and accidental or negligent invasions of privacy
* Communicate security and privacy policies to customers and potential customers–to assuage their fears and keep them coming back for more.
Library Journal Review
Merkow is an electronic commerce security specialist for a Fortune 500 financial services firm, and Breithaupt is a project manager with a brokerage firm. They wrote this book for web developers and administrators, information technology managers, and business owners who are concerned with protecting customer privacy and company data. Part 1 is an overview of the issues, in which the authors explore consumer worries over access to their personal information, the role of government oversight, the potential for self-regulation by the industry, and the importance of privacy policies. Part 2 covers specific tools for ensuring customer confidence, such as the Platform for Privacy Preferences (P3P), server-based security devices, and seal programs. There is a very good explanation of what "cookies" are and how they work. The appendixes include FTC privacy policy guidelines, a sample privacy policy, a suggested readings list, and information on privacy advocacy groups. Clear, detailed, and thorough, this straightforward guide is recommended wherever there is interest. Joan Pedzich, Harris Beach, LLP, Rochester,
Copyright 2002 Cahners Business Information, Inc.
About the Author
Mark S. Merkow, CCP, (Phoenix, AZ) is an e-commerce security specialist with a Fortune 50 financial services company. James Breithaupt (Phoenix, AZ) is a project manager with a premiere brokerage firm. Merkow is the author of Virtual Private Networks for Dummies and coauthor with Breithaupt of The Complete Guide to Internet Security and Building SET Applications for Secure Transactions.