Earthquake Engineering Handbook
W.F. Chen | 1512 pages | CRC | ISBN: 0849300681 | PDF | 134 MB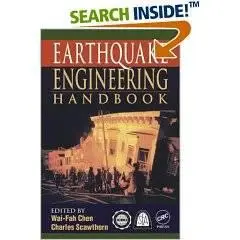 Written for practitioners as well as graduate- level students, this is a comprehensive reference and resource that covers the spectrum of disciplines and topics needed to design for and mitigate earthquakes. International experts provide the essential elements of each subject, from the fundamental, geoscience, and structural aspects to the social and economic impact of earthquakes. Covering both the traditional as well as new and innovative aspects of earthquake engineering, this handbook emphasizes professional applications and offers ready-to-use materials, including many formulas and tables that give immediate answers to real problems.
http://rapidshare.de/files/203...ook__CRC_Press_2003_.part1.rar
http://rapidshare.de/files/203...ook__CRC_Press_2003_.part2.rar
More Engineering (electrical, mechanical, aeronautical, chemical,……) , IT, computer Science, AI, Mathematics, Novels, Magazines and Misc. books on
http://wesamelshamy.googlepages.com/ebooks_engineering.htm
welshamy
hotmail
Wesam ELSHAMY