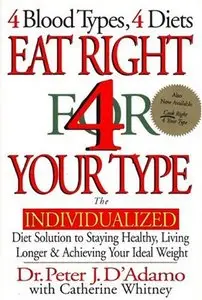 Peter J. D'Adamo, Catherine Whitney
«Eat Right 4 Your Type: The Individualized Diet Solution to Staying Healthy, Living Longer & Achieving Your Ideal Weight»
Putnam Adult | ISBN: 9780399142550 | 1st Edition | PDF | 392 pages | 1.41 Mb
Book Description:
If you've ever wondered why the latest fad diet doesn't work for you… well, there are lots of reasons, mostly the fact that it's a fad diet. But it could also be that you're the wrong blood type for the kinds of foods the diet recommends. Peter D'Adamo makes a persuasive argument that your blood type is an evolutionary marker that tells you which foods you'll process best, and which will be useless calories. He covers the entire range for each of the four blood types, from entrées to condiments and seasonings, and also makes type-specific exercise and lifestyle recommendations.
As recently as five years ago, any talk about the healing powers of alternative medicine would have produced considerable scoffing. Today, many patients of alternative practitioners can relate at least one true curative tale. The time is ripe, then, for naturopathic physician-researcher D'Adamo to promote his family's two-generation investigation into the alliance between blood type, diet, exercise, and health. His premise is that the four blood types–O, A, B, and AB–are the key to our immune systems. There is a strong and proven chemical reaction, positive or negative, between blood type and the foods one eats. Each type, he (and his coauthor) says, requires its own diet, exercise, and meal plans; vitamin supplements; and personality profile. For instance, type AB, the rarest, has a sensitive digestive tract but the friendliest immune system of the four. Furthermore, there is a documented link between blood type and risk for disease. Once the publicity machine starts, expect users to queue up to borrow this title. Barbara Jacobs
About the Author:
Dr. Peter J. D'Adamo is a renowned naturopathic physician, researcher, and lecturer, whose extensive research and clinical testing of the connection between blood type and health, has led to powerful advances in the treatment of breast cancer. Chosen as a Physician of the Year in 1990 by the American Association of Naturopathic Physicians, Dr. D'Adamo is also the founder of The Journal of Naturopathic Medicine and frequently contributes articles to medical journals.