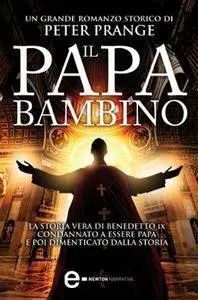 Peter Prange - Il papa bambino (2013)
Newton Compton | 2013 | ISBN: 8854155764 | 476 pages | EPUB/MOBI/AZW3/True PDF | 11 MB
Roma, 1032. Teofilo di Tuscolo ha solo dodici anni quando viene eletto papa con il nome Benedetto IX. È il più giovane pontefice della Storia, ed è stato messo sul trono per far sì che la sua famiglia mantenga il potere sulla città eterna. Nel ricevere questo enorme peso, Benedetto deve però sacrificare l'amore di Chiara di Sasso, cui da sempre è promesso. Cresciuto da un monaco eremita alla più pura spiritualità, il papa bambino dà chiari segni di voler riformare la Chiesa e porre un freno alla corruzione che la governa. Ma Benedetto deve fare i conti con l'odio dei cardinali e delle famiglie romane, per nulla disposti a rinunciare ai propri privilegi. In un turbolento susseguirsi di crimini e complotti, Benedetto dovrà salvare se stesso, perseguitato dai dubbi e dall'ardente e mai sopito amore per la donna della sua vita. Quando però il vicario di Cristo capirà di non poter sostenere il peso della sua carica, diventerà il diavolo fatto persona, si dimetterà e sprofonderà in un buio vortice di peccato. Prange ritrae la controversa figura di un papa dimissionario e il profilo di un periodo storico dilaniato da cruente lotte di potere.
If you like this release please support Developer / Publisher and BUY it.
If you'll find that my links are dead please let me know through the Private Messages.
Please DO NOT MIRROR

&g... Blog Here <<<