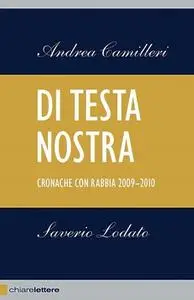 Andrea Camilleri, Saverio Lodato - Di testa nostra. Cronache con rabbia 2009-2010 (2010)
Italian | Chiarelettere | 2010 | ISBN: 8861901190 | 210 pages | True PDF | 6 MB
"Il problema nasce quando i nani si rappresentano il loro dio… E il problema è ancora più grave quando un nano si crede addirittura dio. Lei pensa che io stia alludendo? Non si sbaglia." Eravamo partiti dall'ars amatoria di Berlusconi e siamo arrivati ai condomini "facilitati" dei politici e alla crisi economica. In mezzo, tra commedia e tragedia, con accenti talvolta comici, il divorzio di B., il nuovo giornalismo alla Minzolini, le amazzoni di Gheddafi, il G8 all'Aquila e gli scandali che hanno investito la Protezione civile, l'attacco a Gomorra, Garibaldi, la crisi del Pd, il ddl sulle intercettazioni… Commenta Camilleri: "Pirandello ai suoi tempi sembrò cervellotico, oggi sarebbe cronista di scarsa fantasia". E conclude, riferendosi alla classe politica:"Per confrontarsi sulle idee, bisogna innanzitutto averle". Il viaggio nel "paese senza verità" (Sciascia) non smette di stupire.
If you like this release please support Developer / Publisher and BUY it.
If you'll find that my links are dead please let me know through the Private Messages.
Please DO NOT MIRROR

&g... Blog Here <<<