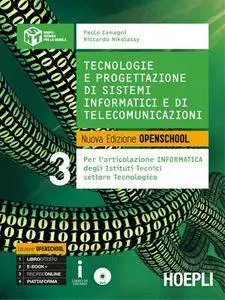 Camagni Paolo, Nikolassy Riccardo - Tecnologie e progettazione di sistemi informatici e di telecomunicazioni. Vol.3 (2017)
Italian | 2017 | 393 pages | ISBN 978-88-203-7766-3 | True PDF | 23.5 MB
Il volume 3, destinato al quinto anno degli Istituti Tecnici e Tecnologici (indirizzo Informatica e telecomunicazioni) tratta lo studio della programmazione di rete e lo sviluppo di applicazioni lato server. È strutturato in quattro sezioni tematiche, di cui una totalmente nuova:
• storia ed evoluzione dei sistemi distribuiti e presentazione dei modelli architetturali;
• analisi dei socket e modalità di comunicazione con i protocolli TCP/ UDP utilizzando il linguaggio Java e C; una unità di apprendimento è interamente dedicata alle applicazioni lato server in Java (servlet e JSP);
• applicazioni lato server utilizzando il linguaggio PHP, soprattutto gli aspetti più avanzati con l'utilizzo degli oggetti e delle API di Google;
• programmazione dei dispositivi mobili con sistema operativo Android con un insieme di lezioni che permettono di realizzare apps anche complesse connesse a database remoti.
If you like this release please support Developer / Publisher and BUY it.
If you'll find that my links are dead please let me know through the Private Messages.
Please DO NOT MIRROR

&g... Blog Here <<<