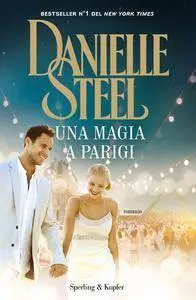 Danielle Steel - Una magia a Parigi (2018)
Italian | 2018 | 282 pagine | ISBN: 9788820097882 | True PDF + mobi + AZW3 | 12.4 MB
Inizia tutto in una sera d'estate, con quel tipo di magia che si trova solo a Parigi. Sei amici, molto affiatati, s'incontrano a una cena, elegante quanto esclusiva. Un evento che si svolge una volta all'anno nella Ville Lumière, all'ombra dei luoghi simbolo della città - a Notre-Dame, vicino all'Arco di Trionfo, ai piedi della Tour Eiffel, Place de la Concorde, tra le piramidi del Lo9788820097882uvre, a Place Vendôme -, e dove tutto è rigorosamente in bianco. Dal vestito degli ospiti alle tovaglie, dai fiori alla porcellana. Un'atmosfera speciale che, al termine della serata, quando il sole è ormai tramontato e la luce di migliaia di candele illumina ogni cosa, si accende con il lancio verso il cielo di centinaia di lanterne volanti.
Ognuna custodisce silenziosa al suo interno un desiderio. E, con lo sguardo rivolto verso l'alto, i sei amici le osservano allontanarsi all'orizzonte. Ancora non sanno che quella sera sarà soltanto la vigilia di grandi cambiamenti nella loro vita. Un anno intenso, tra successi e rotture, li aspetta, fino alla prossima Cena in Bianco…
Con straordinaria delicatezza e passione, Danielle Steel firma un emozionante romanzo sulla magia che si nasconde nelle pieghe della vita. Una storia sorprendente, che ha già incantato le lettrici d'oltreoceano ed esordito al primo posto della classifica dei libri più venduti del New York Times.
Pe... in ITALIANO CLICCA QUI
>&... Blog Here <<<
If you like this release please support Developer / Publisher and BUY it.
If you'll find that my links are dead please let me know through the Private Messages.
Please DO NOT MIRROR

Password:
libri