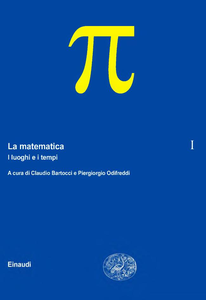 Claudio Bartocci, Piergiorgio Odifreddi - La matematica. Volume 1. I luoghi e i tempi (2007)
Italian | Einaudi | 2007 | PDF | Pages 781 | ISBN: 8806164244 | 16 MB
All'interno dell'universo della matematica sembrano esserci infiniti temi, suggestioni, letture che, prendendo le mosse dagli studi specialistici, invadono e permeano ogni campo del sapere umano. Quest'opera getta una luce nuova sui rapporti, antichi e moderni, tra la scienza dei numeri e le altre forme di cultura. Claudio Bartocci e Piergiorgio Odifreddi, due matematici da sempre aperti al confronto interdisciplinare, curano questa "Grande Opera" in quattro volumi con il contributo di un comitato scientifico di prima grandezza (sono molte le Medaglie Fields, il "Nobel" della matematica) e composta con i saggi di quasi cento autori provenienti da tutto il mondo. Il primo volume ripercorre in 27 saggi la storia di altrettanti centri di cultura dai quali si è irradiata nel mondo la conoscenza matematica, da Babilonia ed Atene a Oxford e a Princeton.
Pe... in ITALIANO CLICCA QUI
>&... Blog Here <<<
If you like this release please support Developer / Publisher and BUY it.
If you'll find that my links are dead please let me know through the Private Messages.
Please DO NOT MIRROR