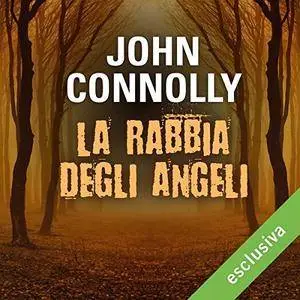 John Connolly - La rabbia degli angeli (Un'indagine di Charlie Parker)
Audiobook | Audible GmbH | Italian | 21 Marzo 2017 | MP3@64 kbps | 18 hrs 34 mins | 525 MB
Narratore: Gianni Gaude
Si racconta che in un bosco del Maine vaghi il fantasma di una bambina; è vestita di nero e ha gli occhi incavati. Durante una battuta di caccia in quei luoghi, due uomini incappano nei rottami di un piccolo velivolo, e forse non si tratta di un semplice caso. Tra le lamiere non trovano cadaveri, solo un borsone pieno di denaro, dei fogli che recano una lunga lista di nomi e un paio di manette spezzate legate al bracciolo di un sedile.
Gli uomini prendono il denaro e il primo foglio della lista, e lasciano il segreto sepolto tra le ombre del bosco. Solo sul letto di morte uno dei due racconterà l'episodio ai propri figli, chiedendo loro di contattare il detective Charlie Parker.
Profondo conoscitore della natura del male che cerca di imporsi sul mondo, investigatore in bilico tra realtà e paranormale, presto Parker scoprirà che quei rottami custodiscono qualcosa che potrebbe decidere le sorti dell'eterna lotta tra luce e ombra: la lista di coloro che hanno stretto un patto con il diavolo. Ha inizio una ricerca sfrenata in cui il detective non è solo: sulle tracce del prezioso documento ci sono anche una donna con una spiccata propensione agli omicidi, un ragazzino silenzioso che ricorda la propria morte e un efferato serial killer alla ricerca di vittime.
Ma nei boschi del Maine troveranno qualcos'altro ad attenderli oltre al relitto di un areoplano… Qualcuno o qualcosa è sopravvissuto. E ora è in attesa…
Pe... in ITALIANO CLICCA QUI
Ca...li AUDIOBOOK CLICCA QUI
>&... Blog Here <<<
If you like this release please support Developer / Publisher and BUY it.
If you'll find that my links are dead please let me know through the Private Messages.
Please DO NOT MIRROR

Password:
libri