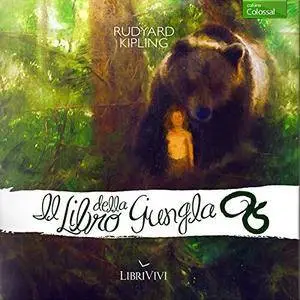 Rudyard Kipling - Il Libro della Giungla
Audiobook | Audible GmbH | Italian | 20 Settembre 2012 | MP3@64 kbps | 01 hrs 54 mins | 54 MB
Narratore: Dario Penne, Gino La Monica, Emanuela Rossi, Bruno Alessandro, Marco Mete, Ruggero Valli, Emiliano Coltorti
Reinventata in chiave moderna e originale dallo scrittore Alessandro Spanghero, e costruita artisticamente per l'ascolto, la celebre opera di Kipling racconta di Mowgli, il cucciolo d'uomo, che viene adottato dal branco dei Lupi di Seonee, il Popolo Libero della Giungla. E con loro felicemente vive, fino a quando la terribile tigre Shere Khan decide che è giunto il momento di impadronirsi di lui, e divorarlo. Nel suo tirannico delirio di onnipotenza Shere Khan sogna di sottomettere a sé la Giungla intera, minacciando la libertà di tutti.
Partecipa alla straordinaria avventura di Mowgli attraverso gli insidiosi sentieri della Giungla, in compagnia di orsi stralunati, pantere astute e infallibili, sciacalli infidi, avvoltoi informatissimi e chiacchieroni, serpenti egocentrici , scimmie smemorate… e scopri come la sua fuga dalla tigre Shere Khan possa trasformarsi, con l'aiuto dell'amicizia e del coraggio, in un sentiero di libertà.
Il libro della giungla è un'opera della collana LibriVivi Colossal. L'audiolibro diventa un vero e proprio "film" da ascoltare, con narrazioni, dialoghi, effetti sonori e musiche.
Pe... in ITALIANO CLICCA QUI
Ca...li AUDIOBOOK CLICCA QUI
>&... Blog Here <<<
If you like this release please support Developer / Publisher and BUY it.
If you'll find that my links are dead please let me know through the Private Messages.
Please DO NOT MIRROR

Password:
libri