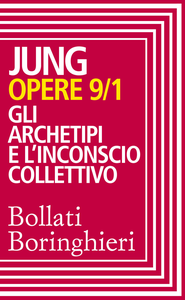 Carl Gustav Jung - Opere vol. 9/1: Gli archetipi e l'inconscio collettivo (2014)
Italian | Bollati Boringhieri | 2015 | EPUB/PDF | Pages 475 | ASIN: B00OG50QH2 | 13 MB
L'opera di Jung si presenta come un intreccio di esperienze analitiche concrete e di una cultura profonda ed estesissima. Per lui l'osservazione dei meccanismi psichici individuali consente di analizzare i segreti della creazione artistica o la dinamica dei fenomeni storici; d'altronde, per orientarsi nei labirinto degli accadimenti individuali occorre studiare i fenomeni e i comportamenti collettivi. I testi qui raccolti, tra cui Gli archetipi dell'inconscio collettivo, Sull'archetipo, Fenomenologia dello spirito della fiaba e Coscienza, incoscio e individuazione, sono stati pubblicati tra il 1934 e il 1955, e appartengono dunque alla piena maturità di Jung. È noto come i concetti di «archetipo» e di «inconscio collettivo» occupino un posto centrale nella sua riflessione, che ha esercitato su di essi un continuo sforzo di approfondimento, anche per rispondere a incomprensioni e fraintendimenti. Associando come sempre l'esperienza clinica alle ricerche scientifiche e umanistiche, Jung opera qui un vero rovesciamento della dimensione psichica, vista non più come l'appendice personale dell'organizzazione biologica, ma come l'aspetto significante degli istinti, la possibilità di rappresentarne il dinamismo.
Pe... in ITALIANO CLICCA QUI
>&... Blog Here <<<
If you like this release please support Developer / Publisher and BUY it.
If you'll find that my links are dead please let me know through the Private Messages.
Please DO NOT MIRROR