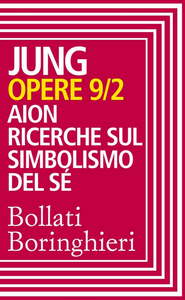 Carl Gustav Jung - Opere vol. 9/2: Aion. Ricerche sul simbolismo del Sé (2015)
Italian | Bollati Boringhieri | 2015 | EPUB/PDF | Pages 475 | ASIN: B00UFSIMCK | 5 MB
Aion si presenta come un'ampia monografia dedicata all'archetipo del Sé. Centrale è l'idea di eone, che dà il titolo al libro. Eone (in greco aion) significa «era, epoca, tempo indefinito, eternità», ma anche, presso gli gnostici, «mondo» e «dio del mondo». Per seguire le trasformazioni della situazione psichica all'interno dell'eone cristiano, Jung ricorre a tutta una serie di simboli, cristiani, gnostici e alchemici, e in particolare al simbolo del pesce, che fin dall'antichità è stato posto in relazione con Cristo e ha svolto un ruolo centrale nell'astrologia. Se in Psicologia e alchimia Jung aveva già cercato di approfondire il significato dell'archetipo del Sé collegandolo alla tradizionale figura di Cristo, qui dà invece maggiore rilievo alle considerazioni astrologiche. Come prova l'Apocalisse, le speculazioni storiche sul tempo sono sempre state influenzate dalle idee astrologiche. Anche se non esiste prova che il simbolismo del pesce sia derivato dalla figura zodiacale, e nemmeno si possa stabilire una connessione tra la polarità dei Pesci e l'opposizione Cristo-Anticristo, l'eone dei Pesci ha accompagnato per duemila anni l'evoluzione spirituale cristiana. Jung sviluppa inoltre una critica psicologica alla dottrina teologica secondo cui il male non è che un «meno» di bene, proponendo invece un superamento della tradizionale opposizione cristiana, qui risolta in una visione accettabile per la coscienza moderna.
Pe... in ITALIANO CLICCA QUI
>&... Blog Here <<<
If you like this release please support Developer / Publisher and BUY it.
If you'll find that my links are dead please let me know through the Private Messages.
Please DO NOT MIRROR