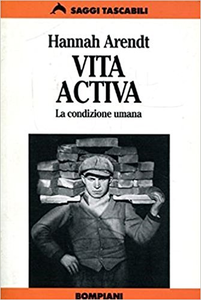 Hannah Arendt - Vita activa: La condizione umana (1994)
Italian | 1994 | PDF | Pages 521 | ISBN: 8845246280 | 5.7 MB
Nelle condizioni di benessere economico e pace civile che ne è della libertà politica? Qual è lo spazio consentito a un agire politico che non sia solo angusta difesa degli interessi materiali o rituale comportamento elettorale? Domande fondamentali che l'autrice ha posto in questo libro divenuto ormai un classico della filosofia del pensiero politico. Spregiudicata analisi della società di massa, accorata denuncia della condizione dell'uomo contemporaneo condannato a una sostanziale solitudine. La Arendt anticipa la critica ecologica e denuncia un grave pericolo: l'"espropiazione del mondo" da parte dell'uomo moderno, prima corrode lo spazio politico e poi minaccia il cosmo naturale.
Per scaricare Altri LIBRI in ITALIANO CLICCA QUI
>>> Visit My Blog Here <<<
If you like this release please support Developer / Publisher and BUY it.
If you'll find that my links are dead please let me know through the Private Messages.
Please DO NOT MIRROR