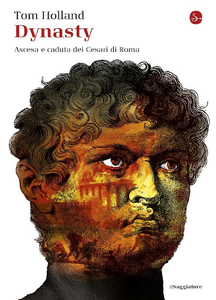 Tom Holland - Dynasty. Ascesa e caduta dei Cesari di Roma (2017)
Italian | 2017 | 471 Pages | ISBN: 8842823074 | PDF | 6 MB
La storia di Roma comincia con uno stupro: è dalla violenza di Marte, dio della guerra, su una giovane vestale, che nascono Romolo e Remo, i fondatori della città. Raccolti e allattati da una lupa, macchiati dall'infamia del fratricidio, i due gemelli iniettano nel corpo dell'impero più grandioso della storia la natura doppia delle loro origini divine e bestiali: grazia e violenza, sensualità e ferocia plasmano un popolo di poeti sublimi, guerrieri sanguinari e condottieri rapiti dalla vertigine del potere. Il lampo giallo, ferino del lupo attraversa lo sguardo di Giulio Cesare davanti ai cadaveri smembrati della guerra civile; luccica in quello di Tiberio mentre osserva i corpi nudi dei giovani nobili romani, avvinghiati in un'orgia per soddisfare i desideri di un imperatore anziano e decaduto; si confonde, negli occhi di Nerone, con le fiamme che divampano radendo al suolo la città. Dynnsty insegue la rapinosa scia d'oro e di sangue della dinastia Giulio-Claudia, penetrando tra i marmi bianchi e i conviti opulenti della dimora dei Cesari. Qui, faide omicide e vortici di lussuria - che non arretrarono neppure di fronte al tabù dell'incesto - non impedivano agli imperatori di esercitare un dominio senza limiti, che si estendeva dalle barbare foreste germaniche ai deserti della Mauretania, portandoli a costruire strade e acquedotti, a offrire alla plebe spettacoli sensazionali e ad ammantarsi di un'aura divina. Da Cesare a Nerone, da Augusto a Caligola, Tom Holland racconta l'ascesa e la caduta dei primi imperatori romani con il ritmo avvincente e fulmineo di una corsa dei carri, e innesta nella puntuale ricostruzione storica la potente fascinazione della materia mitica, guidato dall'idea che solo l'intreccio di realtà e leggenda possa restituire l'immagine di un tem po che esercita ancor oggi una seduzione magnetica.
Pe... in ITALIANO CLICCA QUI
>&... Blog Here <<<
If you like this release please support Developer / Publisher and BUY it.
If you'll find that my links are dead please let me know through the Private Messages.
Please DO NOT MIRROR