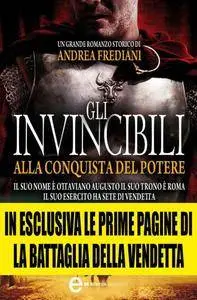 Andrea Frediani - Gli invincibili. Alla conquista del potere (2013)
Italian | Newton | 2013 | EPUB/PDF | Pages 416 | ISBN: 8854150193 | 5 MB
Giulio Cesare è stato appena ucciso, e subito si è scatenata una lotta feroce e sanguinosa per il potere assoluto. Ma sulla scena irrompe il giovanissimo Ottaviano, che Cesare, in modo del tutto imprevedibile, nel testamento ha indicato come erede. Ottaviano è solo un ragazzo, eppure è determinato a vendicare il padre adottivo. A sbarrargli la strada, però, ci sono i protagonisti di lungo corso della politica romana: Marco Antonio, Cicerone, Lepido, Bruto e Cassio. Ciò nonostante, l'erede legittimo non si dà per vinto e, dopo i primi insuccessi, raduna intorno a sé un gruppo di giovani altrettanto determinati: Mecenate, Agrippa e Rufo. Con loro e con pochi altri, forma una setta votata al culto della vendetta, con l'obiettivo di punire, uno dopo l'altro, tutti coloro che si sono macchiati del sangue di Cesare. E non solo: Ottaviano è ben determinato a sovvertire l'ordine costituito e a concludere ciò che Cesare aveva iniziato.
Pe... in ITALIANO CLICCA QUI
>&... Blog Here <<<
If you like this release please support Developer / Publisher and BUY it.
If you'll find that my links are dead please let me know through the Private Messages.
Please DO NOT MIRROR