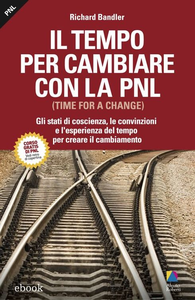 Richard Bandler - Il tempo per cambiare con la PNL. Gli stati di coscienza, le convinzioni e l'esperienza del tempo per creare il cambiamento (2014)
Italian | Alessio Roberti Editore | 2014 | EPUB/PDF | Pages 247 | ASIN: B00LH9M5HE | 6 MB
Tutti noi sappiamo dell'esistenza di persone dotate di abilità straordinarie. Di solito li chiamiamo geni. Alcuni di loro hanno meno esperienza, meno intelligenza, meno talento o meno soldi di molti altri che, invece, hanno raggiunto nello stesso campo risultati mediocri. Come è possibile? Più di vent'anni fa i fondatori della Programmazione Neuro-Linguistica (PNL) hanno cercato di rispondere in modo efficace a questa domanda. Oggi, migliaia di persone in tutto il mondo utilizzano la PNL per il miglioramento e il potenziamento delle proprie risorse. Soprattutto grazie a Richard Bandler, che con la sua sorprendente creatività, il suo acutissimo senso dell'umorismo e le sue potenti abilità linguistiche, ha saputo dar vita a esperienze straordinarie. Come quella contenuta in questo libro. Un testo essenziale per chi desidera approfondire l'efficacia della PNL. Un esempio pratico del genio di Bandler. Una riserva infinita di intuizioni, ispirazioni e insegnamenti per attuare il cambiamento, attraverso: il lavoro sulle convinzioni e gli stati di coscienza; la valorizzazione del potere della risata; il controllo sull'esperienza del tempo, la chiave per un reale controllo della nostra vita.
Pe... in ITALIANO CLICCA QUI
>&... Blog Here <<<
If you like this release please support Developer / Publisher and BUY it.
If you'll find that my links are dead please let me know through the Private Messages.
Please DO NOT MIRROR